External Touchscreen for MatePad Pro 13.2
The Huawei Mate Pad Pro is an excellent tablet with many impressive benefits. 
Powerful performance: the Huawei Mate Pad Pro is powered by a high-performance Kirin processor that offers excellent processing speed and smooth multitasking. This makes it ideal for handling complex tasks and running high-performance apps and games.

High-quality display: the tablet comes with Huawei's in-house developed full-screen display technology, which delivers excellent color and clarity. Its large screen size and high resolution provide users with an immersive viewing experience for watching movies, browsing photos and doing creative work.
Long-lasting battery life: Huawei Mate Pad Pro has a high-capacity battery that can support long hours of use without frequent charging. This makes it an ideal companion on the go, as well as for work and entertainment needs for extended periods of use.

ADVANCED CREATIVE TOOLS: The Mate Pad Pro features Huawei's own M-Pencil and Multi-Screen Collaboration technology, enabling users to create and annotate with the stylus for a more intuitive and natural operation. It also supports Multi-Screen Collaboration, which seamlessly connects with Huawei phones for cross-device work and file sharing.
Versatile productivity tools: Huawei MatePad Pro offers a wealth of productivity tools and apps to help users handle office tasks, note-taking, and team collaboration more efficiently.

With Hongmeng IV, Huawei Mate pad pro also supports the new free multi-window function, allowing users to get a PC-like window interaction experience on the large 13.2-inch screen. At the same time has a PC-level WPS through the WPS office account system, document cloud synchronization function, also synchronizes the PC and mobile documents, can be synchronized editing on the WPS on the tablet. In addition also has a new super transit station, Huawei notes and other functions, for the student party is very practical.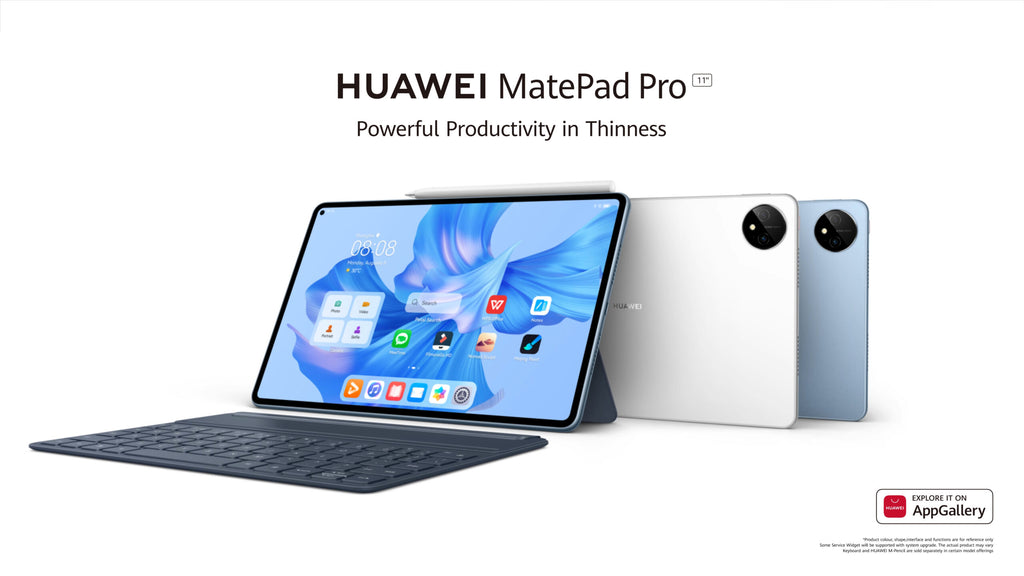 When MatePad needs to touchscreen externally, you only need a C to C cable to connect the two. MatePad is powerful enough to output enough power to run an ordinary 1080P touchscreen portable monitor. Plug and play!

In addition to the advantages in terms of screen, Huawei Mate pad pro also has powerful productivity and thin and light attributes. This tablet supports Huawei PC-grade WPS, Huawei printing technology and more, making document processing and printing easier and faster. Also equipped with the new huawei m pencil third generation stylus, huawei mate pad pro this is a world's first terminal product equipped with star flash technology, the connection is fast and sensitive, able to sense the level of finger contrast applied pressure changes, the line thickness change is more delicate, to become the tablet industry's first super 10,000 pressure-sensitive stylus. The keyboard takes a split design, by removing and keyboard can realize the changes of notebook form, split form, creation form, also support a variety of gesture operation, use more efficient.


Huawei MatePad connects to an external touchscreen screen behind the scenes, providing much convenience and help in practical work and study. The following is a further expansion of these aspects:

Small meeting assistant: The MatePad can be used as an ideal aid for small meetings when connected to an external touchscreen screen. For example, when two or three people are involved in a meeting, one person can draw, display and share ideas on the tablet, while the other can watch video tutorials or present relevant information on the external touch screen. This dual-screen setup makes meetings more interactive and diverse, increasing collaboration and creativity.

Learning and educational tools: By connecting to an external touch screen, MatePad provides a richer learning and educational experience for students and teachers. Students can use the Notes app on the tablet to record class notes while watching online lessons or instructional videos on the external touch screen. This setup makes learning more efficient and allows students to better engage with and understand course content while providing a more interactive and personalized approach to learning.

Multi-Window Processing and Multi-Tasking: With the MatePad connected to an external touch screen, users can multi-window and multi-task more easily. For example, users can open multiple applications on the tablet while browsing the web, editing documents or checking email on the external touch screen. This setup allows users to switch and manage different tasks more efficiently, increasing efficiency and productivity.


All in all, the Huawei MatePad offers greater flexibility and convenience for work and study scenarios when connected to an external touchscreen. It plays an important role in small meetings, learning and education, and multitasking, enabling users to better collaborate, learn, and multitask. Such features make the MatePad a powerful and widely applicable tool, both in professional environments and in schools.
Overall, the Huawei Mate pad pro is a great tablet that excels in terms of screen performance, productivity and thin and light attributes. The huawei matepad pro is able to be utilized even more when it is connected to an external portable monitor.
---